Guadalupe Bible College
Our Lady of Guadalupe Bible College
Catholic Bible College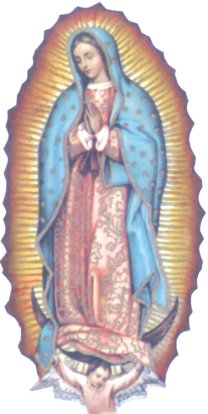 Fr. Al Lauer, Founder and First President
Principles of Guadalupe Bible College (GBC)
Description of Courses and Seminars
Contact Information
Our Lady of Guadalupe Bible College
Presentation Ministries
P.O. Box 96
Madison, OH 44057

Phone: (440) 428-1016
E-mail: gbcol@presentationministries.com

Prayer for Guadalupe Bible College
Our Lady of Guadalupe and our Mother, patroness of our College,
We place ourselves under your protection and guidance. Through studying Scripture and Church teachings we hope to become stronger disciples of your Son, Jesus. We hope to bring the gospel into every aspect of our lives and our society. We hope to lead others to Christ.
Help protect our students and teachers from all evil. Intercede for them that they may be enlightened by the Holy Spirit and persevere in their studies and ministry. Help our College to grow so that all may have a deeper awareness of the truths of the Catholic Church and be better fortified to be the salt of the earth and light to the world for Christ.
We pray this in Jesus' name. Amen.