THE EUCHARIST
John Paul Speaks
Notable quotations from Pope John Paul II and official teachings of the Roman Catholic Church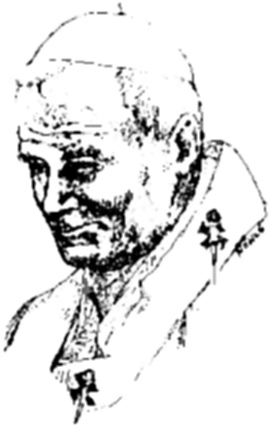 "THE SOURCE OF DIVINE LIFE"
God is with us, for us, and for all: "In the sacrament of the Eucharist the Savior, Who took flesh in Mary's womb 20 centuries ago, continues to offer Himself to humanity as the source of divine life" (Pope John Paul II, Tertio millennio adveniente). (1)
OBEDIENCE, SUNDAY, AND CHRISTIANITY
Gathering together each Sunday, in the Lord's name, to be nourished at the table of the Word and the Bread of life, is obedience to the wishes which Christ made known on the eve of His Passion. We cannot call ourselves Christians and then neglect Jesus' command: "Do this in memory of Me." (6)
VITALITY AND VOCATION
In celebrating the Lord's death and resurrection, each time the Church finds her vitality again and rediscovers her vocation as the people of the New and Everlasting Covenant, a pilgrim people, ... moving toward communion with God in the heavenly Jerusalem. (6)
THE MASS AND DAILY LIFE
Jesus cannot be remembered in the liturgical act without remembering His act of total love in daily life. It is this that makes the disciples truly obedient to their Lord and Master. It can never be thought that Christ's disciples will follow a path which is not the path of the dead and risen Lord. (7)
"THE STRENGTH OF THE FAITHFUL"
The Eucharistic bread is the strength of the weak, the support of the sick, the balm that heals wounds, and the viaticum for those leaving this world. It is the strength of the faithful who work in environments and circumstances in which their presence is the only possibility of proclaiming the Gospel by giving witness to Jesus Christ... (11)
RECONCILIATION AND FORGIVENESS
On the one hand, ... the Eucharist is the source of reconciliation and commits believers to be effective promoters of forgiveness. On the other, so that everyone can worthily receive the Body of Christ, they must be reconciled not only with God but also with their brothers and sisters and the community. (15)
THE EUCHARIST AND EVANGELIZATION
By containing all the spiritual value of the Church, the Eucharist is presented as the source and culmination of evangelization... The celebration of the Eucharistic sacrifice is the most effective missionary action that renews the world and people's lives. (16)
"RETURN BEFORE THE MYSTERY"
Awareness of the greatness of the Eucharist ... is a call to believers to return before the Mystery also outside of the Mass, and to continue the prayerful attitudes that animate the Eucharistic celebration. The silent prayer of thanks and supplication increases our faith by helping us to live in hope and charity. (20)
THE BREAD OF ETERNAL LIFE
Jesus has promised the possibility of being grafted on to His own life and aspiring to an everlasting existence: "Anyone who does eat My flesh and drink My blood has eternal life, and I shall raise him up on the last day" (Jn 6:54). (21)
(Source: "Jesus Christ, the only Savior of the World, Bread for New Life," Basic Text for the 47th International Eucharistic Congress [June 18-25, 2000], issued Sept. 8, 1998)
Published by: Presentation Ministries, 3230 McHenry Ave., Cincinnati, OH 45211, (513) 662-5378, www.presentationministries.com