THE LORD'S DAY (PART 1)
John Paul Speaks
Notable quotations from Pope John Paul II and official teachings of the Roman Catholic Church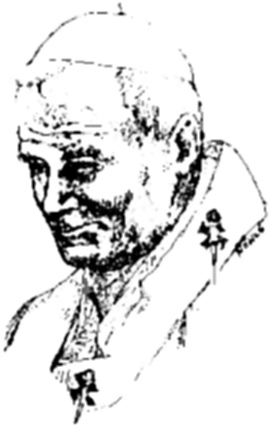 REDISCOVER THE MEANING OF SUNDAY
The coming of the Third Millennium, which calls believers to reflect upon the course of history in the light of Christ, also invites them to rediscover with new intensity the meaning of Sunday: its "mystery," its celebration, its significance for Christian and human life. (3)
SUNDAY AND THE "WEEKEND"
The disciples of Christ...are asked to avoid any confusion between the celebration of Sunday, which should truly be a way of keeping the Lord's Day holy, and the "weekend," understood as a time of simple rest and relaxation. This will require a genuine spiritual maturity, which will enable Christians to "be what they are," in full accordance with the gift of faith, always ready to give an account of the hope which is in them (cf. 1 Pt 3:15). (4)
"GIVE YOUR TIME TO CHRIST"
...Today I would strongly urge everyone to rediscover Sunday: Do not be afraid to give your time to Christ! Yes, let us open our time to Christ, that He may cast light upon it and give it direction. He is the One Who knows the secret of time and the secret of eternity, and He gives us "His day" as an ever new gift of His love. (7)
"A GRACE WHICH WE MUST IMPLORE"
The rediscovery of this day is a grace which we must implore, not only so that we may live the demands of faith to the full, but also that we may respond concretely to the deepest human yearnings. Time given to Christ is never time lost, but is rather time gained, so that our relationships and indeed our whole life may become more profoundly human. (7)
SET APART
Sunday is the day of rest because it is the day "blessed" by God and "made holy" by Him, set apart from the other days to be..."the Lord's Day." (14)
"EVERYTHING BELONGS TO GOD"
Everything belongs to God! The Lord's Day returns again and again to declare this principle within the weekly reckoning of time...It recalls that the universe and history belong to God; and without a constant awareness of that truth, man cannot serve in the world as co-worker of the Creator. (15)
THE WEEKLY EASTER
The intimate bond between Sunday and the Resurrection of the Lord is strongly emphasized by all the Churches of East and West... It is...to the Resurrection of Christ that we must look...to understand fully the Lord's Day. This is what the Christian Sunday does, leading the faithful each week to ponder and live the event of Easter, true source of the world's salvation. (19)
BAPTISM AND NEW LIFE IN CHRIST
Sunday is the day above all other days which summons Christians to remember the salvation which was given to them in baptism and which has made them new in Christ. (25)
(Source: Apostolic Letter, Dies Domini, issued May 31, 1998)
Published by: Presentation Ministries, 3230 McHenry Ave., Cincinnati, OH 45211, (513) 662-5378, www.presentationministries.com