THE BLESSED VIRGIN MARY
Pope Benedict XVI, Shepherd of Truth
Notable quotations from Pope Benedict XVI and official teachings of the Roman Catholic Church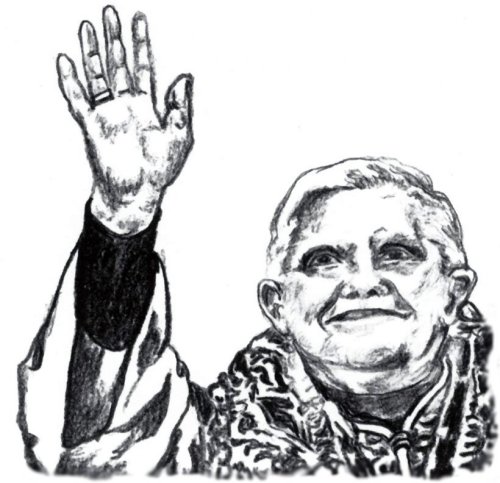 "JOY AND GLORY"
Today Mary dwells in the joy and the glory of the Resurrection. The tears shed at the foot of the Cross have been transformed into a smile which nothing can wipe away, even as her maternal compassion towards us remains unchanged.
"AN UNSHAKABLE CONFIDENCE"
The intervention of the Virgin Mary in offering succor throughout history ... does not cease to call forth, in the people of God, an unshakable confidence in her. the Memorare prayer expresses this sentiment very well.
MARY LOVES YOU
Mary loves each of her children, giving particular attention to those who, like her Son at the hour of His passion, are prey to suffering; she loves them quite simply because they are her children, according to the will of Christ on the Cross.
"SEEK YOUR SMILE"
The psalmist ... prophesies regarding the Virgin Mary that "the richest of the people ... will seek your smile (Ps 44:13)
COMFORT FOR THE SUFFERING
Christians have always sought the smile of Our Lady ... This smile ... is for all; but it is directed quite particularly to those who suffer, so that they can find comfort and solace therein.
NOT OUTDATED
To seek Mary's smile is not an act of devotional or outmoded sentimentality, but rather the proper expression of the living and profoundly human relationship which binds us to her whom Christ gave us as our Mother.
TURN TO MARY
I would like to say, humbly, to those who suffer and to those who struggle and are tempted to turn their backs on life: turn towards Mary! Within the smile of the Virgin lies mysteriously hidden the strength to fight against sick and for life. With her, equally, is found the grace to accept without fear or bitterness to leave this world at the hour chosen by God.
RICH IN FAITH
To seek this smile of the Virgin Mary ... is the aspiration ,,, of those who are "the richest of the people" (Ps 44:13). "The richest" ... in the order of faith, those who have attained the highest degree of spiritual maturity and know precisely how to acknowledge their weakness and their poverty before God.
(Source: Homily, Mass for the Sick, 9/15/08, Lourdes, France)
Published by: Presentation Ministries, 3230 McHenry Ave., Cincinnati, OH 45211, (513) 662-5378, www.presentationministries.com