VOCATIONS AND MISSION
Pope Benedict XVI, Shepherd of Truth
Notable quotations from Pope Benedict XVI and official teachings of the Roman Catholic Church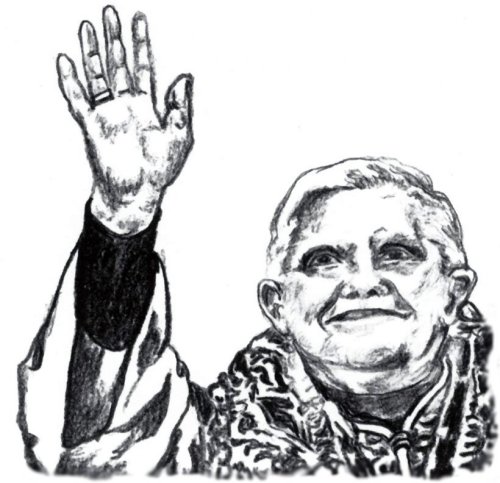 "CALLED TO BEAR WITNESS"
The Church is missionary in herself and in each of her members. Through the sacraments of Baptism and Confirmation, every Christian is called to bear witness and to announce the Gospel, but this missionary dimension is associated in a special and intimate way with the priestly vocation.
THE IMPELLING LOVE OF CHRIST
In the beginning, and thereafter, what "impels" the Apostles ... is always the "love of Christ".
"FAITHFUL SERVANTS"
Innumerable missionaries, throughout the centuries, as faithful servants of the Church, docile to the action of the Holy Spirit, have followed in the footsteps of the first disciples.
"ALL ONE'S LIFE"
The love of Christ must be communicated ... by example and words with all one's life.
"TOTALLY DEDICATED"
Among those totally dedicated to the service of the Gospel , are priests, called to preach the word of God, administer the sacraments, especially the Eucharist and Reconciliation, committed to helping the lowly, the sick, the suffering, the poor, and those who experience hardship in areas of the world where there are, at times, many who still have not had a real encounter with Jesus Christ.
"LIVE THE GOSPEL IN A RADICAL WAY"
There have always been in the Church many men and women who, prompted by the action of the Holy Spirit, choose to live the Gospel in a radical way, professing the vows of chastity, poverty and obedience.
"CONSTANT EDUCATION"
So that the Church may continue to fulfill the mission entrusted to her by Christ, and not lack promoters of the Gospel so badly needed by the world, Christian communities must never fail to provide both children and adults with constant education in the faith. It is necessary to keep alive in the faithful a committed sense of missionary responsibility and active solidarity with the peoples of the world.
(Source: Message for World Day of Prayer for Vocations [April 13, 2008], dated December 3, 2007)
Published by: Presentation Ministries, 3230 McHenry Ave., Cincinnati, OH 45211, (513) 662-5378, www.presentationministries.com