PEACE, LIFE, RELIGIOUS FREEDOM
Pope Benedict XVI, Shepherd of Truth
Notable quotations from Pope Benedict XVI and official teachings of the Roman Catholic Church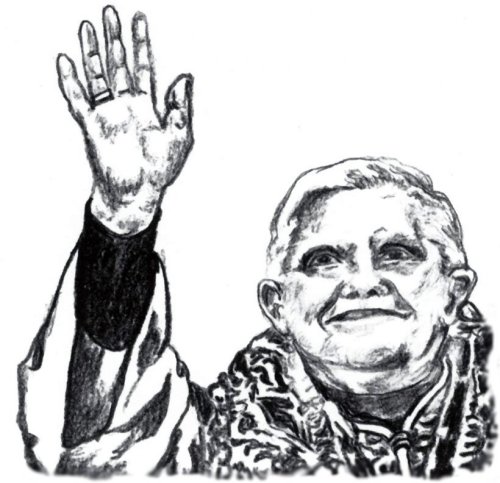 CAN'T DISPOSE OF PEOPLE
The duty to respect the dignity of each human being, in whose nature the image of the Creator is reflected, means ... that the person can not be disposed of at will. Those with greater political, technical, or economic power may not use that power to violate the rights of others who are less fortunate.
PEACE AND RESPECT
Peace is based on respect for the rights of all. Conscious of this, the Church champions the fundamental rights of each person. In particular, she promotes and defends respect for the life and the religious freedom of everyone.
"DECISIVE IMPORTANCE"
Respect for the right to life at every stage firmly establishes a principle of decisive importance: life is a gift which is not completely at the disposal of the subject.
NOT IN MAN'S POWER
The right to life and to the free expression of personal faith in God is not subject to the power of man. Peace requires the establishment of a clear boundary between what is at man's disposal and what is not ...
"AN ATTACK ON PEACE"
As far as the right to life is concerned, we must denounce its widespread violation in our society: alongside the victims of armed conflicts, terrorism and the different forms of violence, there are the silent deaths caused by hunger, abortion, experimentation on human embryos and euthanasia. How can we fail to see in all this an attack on peace?
"DIRECT DENIAL"
Abortion and embryonic experimentation constitute a direct denial of that attitude of acceptance of others which is indispensable for establishing lasting relationships of peace.
"ANOTHER DISTURBING SYMPTOM"
...Another disturbing symptom of lack of peace in the world is represented by the difficulties that both Christians and the followers of other religions frequently encounter in publicly and freely professing their religious convictions.
PERSECUTION OF CHRISTIANS
Speaking of Christians in particular, I must point out with pain that not only are they at times prevented from doing so; in some States they are actually persecuted, and even recently tragic cases of ferocious violence have been recorded.
(Source: Message for World Day of Peace, issued December 8, 2006)
Published by: Presentation Ministries, 3230 McHenry Ave., Cincinnati, OH 45211, (513) 662-5378, www.presentationministries.com