MARRIAGE AND FAMILY
Pope Benedict XVI, Shepherd of Truth
Notable quotations from Pope Benedict XVI and official teachings of the Roman Catholic Church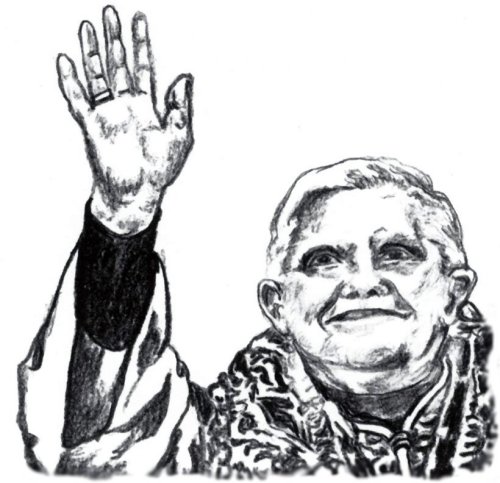 "THE VITAL CELL"
The family, founded on marriage, is the "patrimony of humanity", a fundamental social institution; it is the vital celland pillar of society and this concerns believers and non-believers alike. It is the reality that all states must hold in the highest regard because as John Paul II liked to repeat, "the future of humanity passes by way of the family"...
"THE CHRISTIAN VISION OF MARRIAGE"
In the Christian vision ..., marriage, which Christ raised to the most exalted dignity of a sacrament, confers greater splendor and depth on the conjugal bond and more powerfully binds the spouses, who blessed by the Lord ..., promise each other faithfulness until death in love that is open to life.
JESUS IS LORD
The Lord is the center and heart of the family; He accompanies them in their union and sustains them in their mission to raise children to maturity.
"NEVER TIRE"
In today's world..., we must never tire of presenting anew the truth about the family institutition, as God has desired it since creation.
"SWIM AGAINST THE TIDE"
In our day, it is especially the stabiliity of the family that is at risk; to safeguard it one often has to swim against the tide of the prevelant culture, and this demands patience, effort, sacrifice and the ceaseless quest for mutual understanding.
FAITHFULNESS IS POSSIBLE
Today..., it is possible for husbands and wives to overcome their difficulties and remain faithful to their vocation with recourse to God's support, with prayer and participating devotedly in the sacraments, especially the Eucharist.
"UNITY AND STRENGTH"
The unity and strength of families helps society to breathe the genuine human values and to be open to the Gospel.
(Source: Address to the Pontifical Council for the Family, May 13, 2006)
Published by: Presentation Ministries, 3230 McHenry Ave., Cincinnati, OH 45211, (513) 662-5378, www.presentationministries.com