WORLD YOUTH DAY 2005
Pope Benedict XVI, Shepherd of Truth
Notable quotations from Pope Benedict XVI and official teachings of the Roman Catholic Church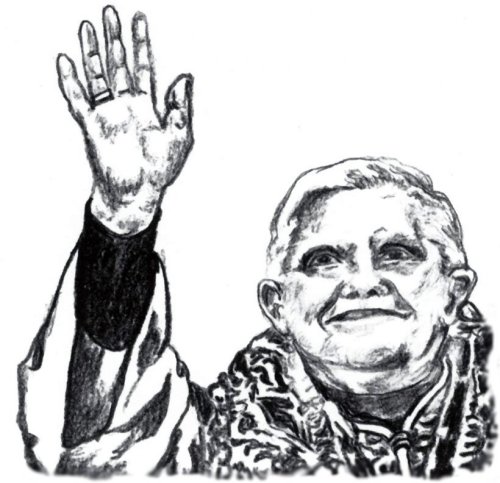 THE CHURCH'S VITALITY
That so many young people have come to meet the Successor of Peter is a sign of the Church's vitality. I am happy to be with them, to confirm their faith and, God willing, to enliven their hope.
ENTHUSIASM, SENSITIVITY, AND READINESS
... I am sure that I will also receive something from the young people, the fact that their enthusiasm, their sensitivity and their readiness will sustain me and give me the courage to continue my journey in the service of the Church ... and to face the challanges of the future.
"DEEP GRATITUDE"
I naturally recall with deep gratitude ... Pope John Paul II, who had the inspired idea of calling young people from all over the world to join in celebrating Christ...
JOHN PAUL II AND YOUTH
That great Pope understood the challenges faced by young people today, and, as a sign of his trust in them, he did not hesitate to spur them on to be courageous heralds of the Gospel and intrepid builders of the civilization of truth, love and peace.
LET JESUS SURPRISE YOU!
To all of you I appeal: Open wide your hearts to God! Let yourselves be surprised by Christ! Let Him have "the right of free speech"...Open the doors of your freedom to His merciful love! Share your joys and pains wth Christ, and let Him enlighten your minds with His light and touch your hearts with His grace.
"A LIBERATING EXPERIENCE"
... May you have a liberating experience of the Church as the place where God's merciful love reaches out to all people. In the Church and through the Church you will meet Christ Who is waiting for you.
"COMMIT YOURSELVES WITHOUT RESERVE"
... I encourage you to commit yourselves without reserve to serving Christ, whatever the cost. The encounter with Jesus Christ will allow you to experience in your hearts the joy of His living and life-giving presence, and enable you to bear witness to it before others.
(Sources: Welcome Celebration Poller Rheinwiesen Wharf, Cologne, Germany, 8/18/05; Arrival, Cologne/Bonn Airport, 8/18/05)
Published by: Presentation Ministries, 3230 McHenry Ave., Cincinnati, OH 45211, (513) 662-5378, www.presentationministries.com