FAMILIES
John Paul Speaks
Notable quotations from Pope John Paul II and official teachings of the Roman Catholic Church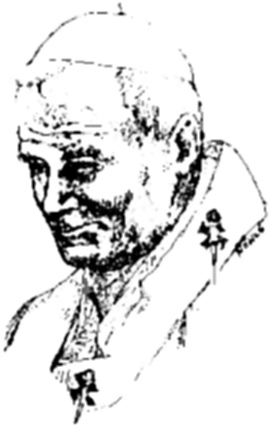 JOYFUL PROCLAMATION
Proclaim joyfully to the whole world the wonderful treasure which you as domestic churches, possess!
"COMMUNION OF LIFE AND LOVE"
Christian couples, in your communion of life and love, in your mutual self-giving and in your generous openness to children, become in Christ, the light of the world.
"STAND FIRM"
Stand firm in the one conviction which can give meaning, strength and joy to your life: Christ's love will never abandon you...
"YOU ARE NOT ALONE"
Daily life is full of pitfalls, tensions, suffering and even fatigue...you are not alone. Jesus is always present at your side...
"WITNESS TO THE TRUTH"
Christian couples, be "good news for the third millennium" by bearing convincing and consistent witness to the truth about the family.
"PRICELESS VALUE"
The family founded on marriage is a...great good of priceless value, necessary for the life, development and the future of peoples.
"MEANINGFUL EXPERIENCE"
I urge you, dear Christian families, to show by your daily lives that despite numerous difficulties and obstacles marriage is able to be fully lived out as a meaningful experience and as "good news" for the men and women of today. Be leaders in the Church and in the world.
"FAMILY PRAYER"
Do not forget that family prayer is a sure way to remain united in a way of life in harmony with God's will.
PRAYING THE ROSARY
By reciting the Rosary, families "place Jesus at the centre, they share his joys and sorrows, they place their needs and their plans in his hands, they draw from him the hope and the strength to go on" (Rosarium Virginis Mariae, n. 42).
"A PAGE OF THE GOSPEL"
Make the Gospel the guiding principle of your families, and make your families a page of the Gospel written for our time!
(Source: Address to Fourth World Meeting of Families, Jan 25, 2003)
Published by: Presentation Ministries, 3230 McHenry Ave., Cincinnati, OH 45211, (513) 662-5378, www.presentationministries.com