WORLD MISSION SUNDAY
John Paul Speaks
Notable quotations from Pope John Paul II and official teachings of the Roman Catholic Church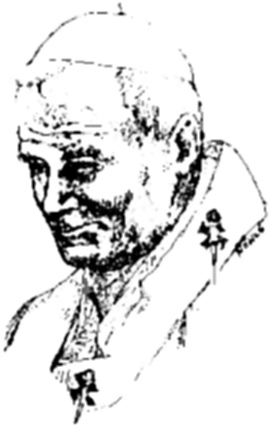 "75TH ANNIVERSARY"
This year is the 75th anniversary of the institution of Mission Sunday by Pope Pius XI, who accepted a request by the Pontifical Society for the Propagation of the Faith to "establish a day of prayer and propaganda for the missions' to be celebrated on the same day in every diocese, parish and institute of the Catholic world ... and to encourage offerings for the missions."
MISSION INVOLVES EVERYONE
Mission Sunday has been a special occasion to remind the whole People of God of the permanent validity of the missionary mandate, since "missionary activity is a matter for all Christians, for all dioceses and parishes, Church institutions and associations" (Redemptoris Missio, n.2).
"ARDENT CONTEMPLATION OF JESUS"
On the occasion of Mission Sunday last year, I reminded you that missionary commitment is born of ardent contemplation of Jesus... Contemplation of Jesus "the first and greatest evangelizer" (Evangelii nuntiandi, n. 7) transforms us into evangelizers. It makes us aware of His desire to give eternal life to those entrusted to Him by the Father (cf. Jn 17:2).
"CAPTIVATED BY HIS RADIANCE"
A Christian who has contemplated Jesus Christ cannot fail to be captivated by His radiance ... and to commit himself to bearing witness to his faith in Christ, the only Savior of mankind.
"A SINGULAR URGENCY"
The call to mission acquires a singular urgency, particularly if we look at that part of humanity which still does not know Christ or recognize Him.
"JOYFUL PROCLAMATION"
Mission is "the joyful proclamation of a gift meant for all, and to be offered to all with the greatest respect for the freedom of each one: the gift of the revelation of the God Who is Love, the God Who 'so loved the world that He gave His only Son' (Jn 3:16)" (Novo Millennio ineunte, n. 56).
NOT JUST A CONTRIBUTION
It is ... an opportune circumstance to reaffirm that "the missions ask not only for a contribution but for a sharing in the work of preaching and charity towards the poor..." (Redemptoris Missio).
LEARNING HOW TO GIVE
This Day is important in the life of the Church "because it teaches how to give: as an offering made to God in the Eucharistic celebration and for all the missions of the world" (Redemptoris Missio).
"THE NEED FOR GREATER, COMMON EFFORT"
May this anniversary be ... an opportune occasion to reflect on the need for greater, common effort to promote the missionary spirit and collect the necessary material aid which missionaries need.
(Message for World Mission Sunday, Oct. 21, 2001, issued June 3, 2001, the Solemnity of Pentecost)
Published by: Presentation Ministries, 3230 McHenry Ave., Cincinnati, OH 45211, (513) 662-5378, www.presentationministries.com