THE JUBILEE YEAR
John Paul Speaks
Notable quotations from Pope John Paul II and official teachings of the Roman Catholic Church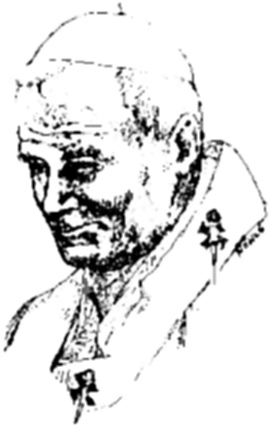 THE JUBILEE BEGINS ON CHRISTMAS EVE
The Great Jubilee of the Year 2000 will begin on Christmas Eve 1999 ... May Christmas 1999 be for everyone a feast filled with light, the prelude to an especially deep experience of grace and divine mercy, which will continue until the closing of the Jubilee Year on the day of the Epiphany of Our Lord Jesus Christ, 6 January 2001. (6)
BE DOCILE TO THE HOLY SPIRIT
The Great Jubilee of the Year 2000 is almost upon us. Ever since my first Encyclical Letter ..., I have looked towards this occasion with the sole purpose of preparing everyone to be docile to the working of the Spirit. (2)
"NEW HORIZONS"
The coming of the third millennium prompts the Christian community to lift its eyes of faith to embrace new horizons in proclaiming the kingdom of God. It is imperative therefore at this special time to return more faithfully than ever to the teaching of the Second Vatican Council, which shed new light upon the missionary task of the Church in view of the demands of evangelization today. (2)
"CALLED TO CONVERSION"
By its nature, the Holy Year is a time when we are called to conversion. This is the first word of the preaching of Jesus, which significantly enough is linked with readiness to believe: "Repent and believe the Good News" (Mk 1:15). (11)
"THE GLORY AND POWER OF THE EUCHARIST"
For 2000 years, the Church has been the cradle in which Mary places Jesus and entrusts Him to the adoration and contemplation of all peoples. May the humility of the Bride cause to shine forth still more brightly the glory and power of the Eucharist, which she celebrates and treasures in her heart. (11)
"CHRISTIAN WITNESS"
So that there may be a renewed commitment to Christian witness in the world of the next millennium, let faith be refreshed, let hope increase and let charity exert itself still more. (11)
"A CHANGE OF LIFE"
The Jubilee is a further summons to conversion of heart through a change of life. It is a reminder to all that they should give absolute importance neither to the goods of the earth, since they are not God, nor to man's domination or claim to domination, since the earth belongs to God and to Him alone ... (12)
THE DESIRE TO BE A MARTYR
The Church ... must remain anchored in the testimony of the martyrs and jealously guard their memory. May the People of God, confirmed in faith by the example of these true champions of every age, language and nation, cross with full confidence the threshold of the third millennium... May admiration for their martyrdom be matched by the desire to follow their example, with God's grace, should circumstances require it. (13)
MARY AND THE JUBILEE
The joy of the Jubilee would not be complete if our gaze did not turn to her who in full obedience to the Father gave birth to the Son of God... May she deign to intercede intensely for the Christian people, so that abundant grace and mercy may be theirs, as they rejoice at the 2,000 years since the birth of their Savior. (14)
(Source: Bull of Indiction of the Great Jubilee, Incarnationis Mysterium, issued November 29, 1998)
Published by: Presentation Ministries, 3230 McHenry Ave., Cincinnati, OH 45211, (513) 662-5378, www.presentationministries.com