WORLD MISSION SUNDAY
John Paul Speaks
Notable quotations from Pope John Paul II and official teachings of the Roman Catholic Church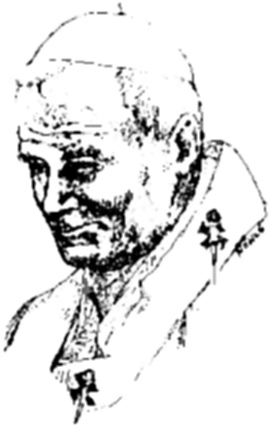 "A PRECIOUS OPPORTUNITY"
Each year World Mission Sunday offers the Church a precious opportunity to reflect on her missionary nature... The Church knows she is called to proclaim to men and women of every age and in every place the love of the one Father, Who in Jesus Christ desires to gather His children who are scattered abroad (cf. Jn 11:52).
AN AMAZING DISCOVERY
The Church is missionary in order to proclaim untiringly that God is Father, filled with love for all mankind... Those who accept His grace discover with amazement that they are children of the one Father and therefore feel they owe it to all people to proclaim salvation.
HE FORGETS OUR SINS
Missionary activity cannot fail to carry to individuals and to entire peoples the good news of the Lord's loving mercy. The Father Who is in heaven ... is loving and He forgives the repentant sinner, forgetting his sins, restoring serenity and peace.
"THE REASSURING REALITY"
The Church is called, through her missionary activity, to make the reassuring reality of divine Fatherhood present, not only through words but above all through the holiness of missionaries and of the People of God.
LOVE AND POWER
In social situations dominated by the logic of power and violence, the mission of the Church is to bear witness to the love of God and the power of the Gospel which dissolve hatred and revenge, egoism and indifference.
APOSTLES OF RECONCILIATION AND PEACE
Mission Sunday offers each of us an opportunity to put more emphasis on our common missionary vocation, which leads Christ's disciples to become apostles of His Gospel of reconciliation and peace.
"THE PASSION OF EVERY CHRISTIAN"
The mission of salvation is universal; for every person and for the whole person. It is a task which involves ... all the faithful. Mission must ... be the passion of every Christian; a passion for the salvation of the world and an ardent commitment to work for the coming of the Father's kingdom.
PRAYER, SUFFERING, AND COMMITMENT
There must be unceasing prayer to nourish the desire to carry Christ to all men and women. There must be the offering of one's suffering in unity with those of the Redeemer. There must also be personal commitment to support organizations of missionary cooperation.
"IMMENSE GOOD WORK"
We will celebrate on October 24 the last Mission Sunday of a millennium in which the evangelizing work of the Church has produced truly wondrous fruits. Let us thank the Lord for the immense good work achieved by missionaries as ... we confidently await the dawn of a new day.
(Source: Message for World Mission Sunday, issued on May 23, 1999, the Solemnity of Pentecost)
Published by: Presentation Ministries, 3230 McHenry Ave., Cincinnati, OH 45211, (513) 662-5378, www.presentationministries.com