THE DIGNITY OF OLDER PEOPLE
John Paul Speaks
Notable quotations from Pope John Paul II and official teachings of the Roman Catholic Church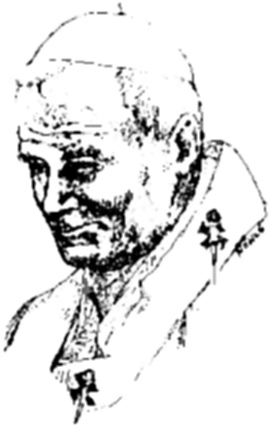 "AN INDISPENSABLE RESOURCE"
The affective, moral and religious values embodied by older people are an indispensable resource for fostering the harmony of society, of the family, and of the individual. These values include a sense of responsibility, faith in God, friendship, disinterest in power, prudence, patience, wisdom and a deep inner conviction of the need to respect ... creation and foster peace.
PRAYER
Prayer is a service. It is a ministry that older people may perform for the good of the whole Church and the world. Even the most infirm and handicapped ... can pray... "The encounter with God in prayer introduces into the course of history a power ... which touches hearts, leads them to conversion and renewal, and so becomes a powerful historical force transforming social structures" (Pope John Paul II).
THE SEARCH FOR HOLINESS
Christ's call to holiness is addressed to all His disciples... In spite of the passing of years, which risks dampening enthusiasm and draining away energy, older people must therefore feel themselves more than ever called to persevere in the search for Christian holiness: Christians must never let apathy or tiredness impede their spiritual journey.
"IRREPLACEABLE"
Older people are irreplaceable apostles, especially among their own age group, because no one is more familiar than they with the problems and feelings of this phase of life.
"ELOQUENT WITNESSES AND APOSTLES"
By word and by prayer, and also by the renunciations and sufferings that advanced age brings with it, older people have always been eloquent witnesses and apostles of the faith in Christian communities and in families—sometimes in conditions of persecution...
THE CHURCH AND OLDER PEOPLE
It is the duty of the Church to announce to older people the Good News of Jesus... It is the duty of the Church to give older people the chance to encounter Christ.
THE RICHEST STAGE OF LIFE
Older people should be encouraged to consecrate the years that remain ... to a new mission illuminated by the Holy Spirit. In this way they may give rise to a stage of human life which, in the light of the Paschal Mystery of the Lord, is revealed as the richest and most promising of all.
"EXTRAORDINARY GRACE"
"Older people, with the wisdom and experience which are the fruit of a lifetime, have entered upon a time of extraordinary grace which opens to them new opportunities for prayer and union with God. Called to serve others and to offer their lives to the Lord and Giver of Life, new spiritual powers are given them." (Pope John Paul II)
(Source: Pontifical Council for the Laity, The Dignity of Older People and Their Mission in the Church and in the World, issued October 1, 1998)
Published by: Presentation Ministries, 3230 McHenry Ave., Cincinnati, OH 45211, (513) 662-5378, www.presentationministries.com