THE CHURCH IN AMERICA (PART II)
John Paul Speaks
Notable quotations from Pope John Paul II and official teachings of the Roman Catholic Church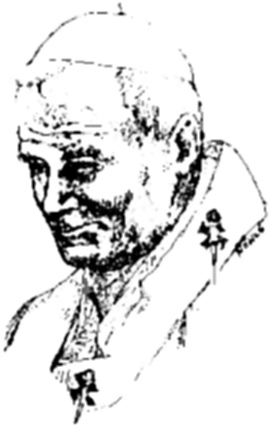 "A CLEAR PRIORITY"
The Church in America "must give a clear priority to prayerful reflection on Sacred Scripture by all the faithful." ... It is a practice to be encouraged among all Christians. (31)
"LIVING SIGN OF UNITY"
The Catholic Church ... is called to be, "in a world marked by ideological, ethnic, economic and cultural divisions," the "living sign of the unity of the human family." (32)
"AN IMMENSE GIFT"
There is a need to renew in the faithful the sense that the Eucharist is an immense gift: this will lead them to do all that they can to participate actively and worthily, at least on Sundays and Holy Days. (35)
"PROMOTING VOCATIONS"
The indispensable role of the priest within the community must lead all the members of the Church in America to recognize the importance of promoting vocations... "The entire People of God is responsible for promoting vocations, and does so chiefly by persistent and humble prayer for vocations." (40)
"TRUE HUMAN RELATIONSHIPS"
One way of renewing parishes, especially urgent for parishes in large cities, might be to consider the parish as a community of communities and movements. It seems timely therefore to form ecclesial communities and groups of a size that allows for true human relationships. (41)
"MISSIONARY SPIRIT"
"... Parishes in America should be distinguished by their missionary spirit, which leads them to reach out to those who are far away. (41)
"THE ACTIVE PRESENCE OF THE LAITY"
"... The renewal of the Church in America will not be possible without the active presence of the laity... They are largely responsible for the future of the Church." (44)
"URGENT NEED"
There is urgent need of a broad catechetical effort regarding the Christian ideal of conjugal communion and family life, including a spirituality of fatherhood and motherhood. Greater pastoral attention must be given to the role of men as husbands and fathers... (46)
"PRACTICAL SOLUTIONS"
Faced with the grave social problems which, with different characteristics, are present throughout America, Catholics know that they can find in the Church's social doctrine an answer which serves as a starting-point in the search for practical solutions. Spreading this doctrine is an authentic pastoral priority. (54)
CATHOLIC FAMILIES
I invite Catholic families to be "domestic Churches," in which the Christian faith is lived and passed on to the young as a treasure, and where all pray together. (76)
(Source: Apostolic Exhortation, Ecclesia in America, issued January 22, 1999)
Published by: Presentation Ministries, 3230 McHenry Ave., Cincinnati, OH 45211, (513) 662-5378, www.presentationministries.com