THE CHURCH IN AMERICA (PART I)
John Paul Speaks
Notable quotations from Pope John Paul II and official teachings of the Roman Catholic Church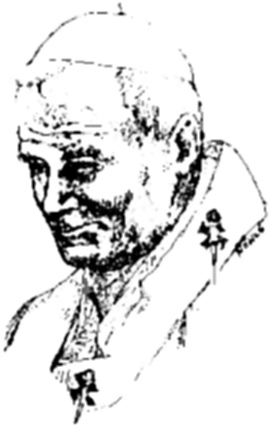 "GRATITUDE TO THE LORD"
The recent celebration of the 500th anniversary of the coming of the Gospel to America ... and the approaching Jubilee ... are special times when our hearts spontaneously ring out in gratitude to the Lord. Realizing the greatness of the gifts received, the pilgrim Church in America wishes to bring the whole of society and every man and woman to share in the riches of faith and communion in Christ. (1)
"A FRESH ENCOUNTER WITH JESUS"
A fresh encounter with Jesus Christ will make all the members of the Church in America aware that they are called to continue the Redeemer's mission in their lands. (7)
"RENEWAL OF THE CHURCH"
If it is genuine, the personal encounter with the Lord will also bring a renewal of the Church: as sisters and neighbors to each other, the particular Churches of the continent will strengthen the bonds of cooperation and solidarity in order that the saving work of Christ may continue in the history of America with ever greater effect. (7)
"THE CHURCH IS THE PLACE ..."
The Church is the place where men and women, by encountering Jesus, can come to know the love of the Father, for whoever has seen Jesus has seen the Father (cf. Jn 14:9). (10)
JESUS IS THE DEFINITIVE ANSWER
Jesus Christ is ... the definitive answer to the question of the meaning of life, and to those fundamental questions which still trouble so many men and women on the American continent. (10)
"STRONG, LIVELY AND ACTIVE FAITH"
The Church in America desires to lead the men and women of the continent to encounter Christ. This encounter will be the starting-point of authentic conversion and of renewed communion and solidarity. Such an encounter will contribute greatly to strengthening the faith of many Catholics, helping them to mature in strong, lively and active faith. (12)
"THE GREATEST GIFT"
The greatest gift which America has received from the Lord is the faith which has forged its Christian identity... The evangelization which accompanied the European migrations has shaped America's religious profile, marked by moral values which, though they are not always consistently practiced and at times are cast into doubt, are in a sense the heritage of all Americans, even of those who do not explicitly recognize this fact. (14)
AMERICA'S SAINTS
The Saints are the true expression and the finest fruits of America's Christian identity... The Saints and the Beatified of America accompany the men and women of today with fraternal concern in all their joys and sufferings until the final encounter with the Lord. (15)
"A FORMIDABLE CHALLENGE"
The evangelization of urban culture is a formidable challenge for the Church... The Church is called ... today to undertake a methodical and far-reaching urban evangelization through catechesis, the liturgy and the very way in which her pastoral structures are organized. (21)
(Source: Apostolic Exhortation, Ecclesia in America, issued January 22, 1999)
Published by: Presentation Ministries, 3230 McHenry Ave., Cincinnati, OH 45211, (513) 662-5378, www.presentationministries.com