TRUTH, FAITH, AND REASON
John Paul Speaks
Notable quotations from Pope John Paul II and official teachings of the Roman Catholic Church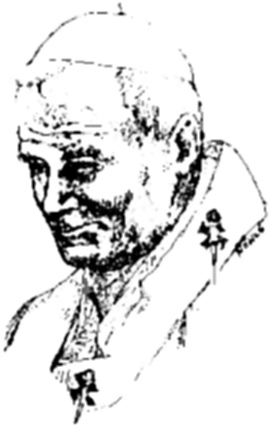 "THE QUEST FOR MEANING"
Who am I? Where have I come from and where am I going? Why is there evil? What is there after this life? These are ... questions which have their common source in the quest for meaning which has always compelled the human heart. (1)
"THE GIFT OF ULTIMATE TRUTH"
The Church is no stranger to this journey of discovery, nor could she ever be. From the moment when, through the Paschal Mystery, she received the gift of ultimate truth about human life, the Church has made her pilgrim way along the paths of the world to proclaim that Jesus Christ is "the way, and the truth, and the life" (Jn 14:6). (2)
JESUS, THE WAY TO THE FATHER
In Christ, all have access to the Father, since by His death and resurrection Christ has bestowed the divine life which the first Adam had refused... Through this revelation, men and women are offered the ultimate truth about their own life... (12)
IMPAIRED VISION
Our vision of the face of God is always fragmentary and impaired by the limits of our understanding. Faith alone makes it possible to penetrate the mystery in a way that allows us to understand it coherently. (13)
"HUMANLY UNSTOPPABLE"
Men and women are on a journey of discovery which is humanly unstoppable—a search for the truth and a search for a person to whom they might entrust themselves. Christian faith comes to meet them, offering the concrete possibility of reaching the goal which they seek. (33)
"SHARE IN THE MYSTERY OF CHRIST"
Christian faith immerses human beings in the order of grace, which enables them to share in the mystery of Christ, which in turn offers them a true and coherent knowledge of the Triune God. (33)
"NO FEAR"
Faith ... has no fear of reason, but seeks it out and has trust in it. Just as grace builds on nature and brings it to fulfillment, so faith builds upon and perfects reason. (43)
"REASON IS SET FREE"
Illumined by faith, reason is set free from the fragility and limitations deriving from the disobedience of sin and finds the strength required to rise to the knowledge of ... God. (43)
ATTAIN THE BEAUTIFUL
It is faith which stirs reason to move beyond all isolation and willingly to run risks so that it may attain whatever is beautiful, good, and true. (56)
MUTUAL SUPPORT
The Church remains profoundly convinced that faith and reason "mutually support each other" [Vatican Council I]; each influences the other, as they offer to each other a purifying critique and a stimulus to pursue the search for deeper understanding. (100)
(Source: Encyclical Faith and Reason, issued September 14, 1998)
Published by: Presentation Ministries, 3230 McHenry Ave., Cincinnati, OH 45211, (513) 662-5378, www.presentationministries.com