THE MASS MEDIA
John Paul Speaks
Notable quotations from Pope John Paul II and official teachings of the Roman Catholic Church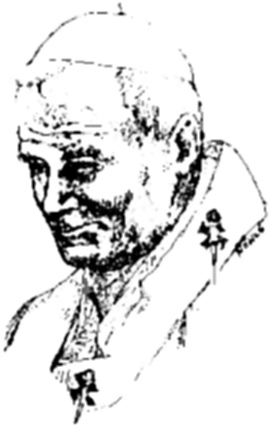 "THREAT AND PROMISE"
With the recent explosion of information technology, the possibility for communication between individuals and groups in every part of the world has never been greater. Yet, ... the very forces which can lead to better communication can also lead to increasing self-centeredness and alienation. We find ourselves in a time of both threat and promise.
"COMMUNICATION OVER ALIENATION"
Let us look ... with great hope to the new millennium, trusting that there will be people in both the Church and the media prepared to cooperate to ensure that the promise prevails over the threat, communication over alienation.
"A FRIENDLY COMPANION"
I have chosen as the theme for this year's World Communications Day [May 16] "Mass media: a friendly companion for those in search of the Father."
FOR OR AGAINST GOD?
How might the media work with God rather than against Him? ... How might the media be a friendly companion to those searching for God's loving presence in their lives?
"HELP RATHER THAN HINDER"
The theme ... implies an invitation and a hope: that those responsible for the world of social communications will be ever more committed to help rather than hinder the search for meaning which is at the very heart of human life.
"THE MEDIA'S SPECIAL RESPONSIBILITY"
The theme recognizes the exceptional influence of the media in contemporary culture, and therefore the media's special responsibility to witness to the truth about life, about human dignity, about the true meaning of our freedom and mutual interdependence.
CORRODING HOPE AND ENDURING FRESHNESS
The Church's culture of remembrance can save the media culture of transitory "news" from becoming a forgetfulness which corrodes hope; and the media can help the Church to proclaim the Gospel in all its enduring freshness.
WISDOM AND INFORMATION
The Church's culture of wisdom can save the media culture of information from becoming a meaningless accumulation of facts; and the media can help the Church's wisdom to remain alert to the array of new knowledge now emerging.
JOY AND ENTERTAINMENT
The Church's culture of joy can save the media culture of entertainment from being a soulless flight from truth and responsibility; and the media can help the Church to understand better how to communicate with people in a way that appeals and even delights.
LOVE, NOT DESTRUCTION
... A world where the Church and the media can work together for the good of humanity... is what is required if the power of the media is not to be a force which destroys but a love which creates, a love which reflects the love of God...
(Source: Message for World Communications Day, issued January 24, 1999)
Published by: Presentation Ministries, 3230 McHenry Ave., Cincinnati, OH 45211, (513) 662-5378, www.presentationministries.com