VOCATIONS
John Paul Speaks
Notable quotations from Pope John Paul II and official teachings of the Roman Catholic Church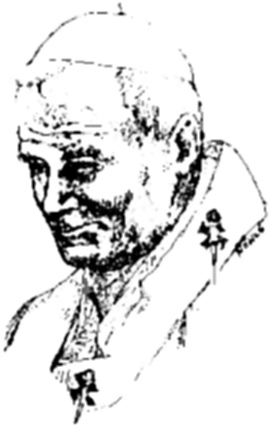 WORLD DAY OF PRAYER FOR VOCATIONS
The celebration of the World Day of Prayer for Vocations on 25 April 1999...constitutes a recurring reminder to consider with attention a fundamental aspect of the life of the Church: the call to the ordained ministry and to the consecrated life.
"THE PERSPECTIVE OF THE FATHER"
In the journey of preparation for the Great Jubilee,...1999 opens "the horizons of believers, so that they will see things in the perspective of Christ: in the perspective of the Father Who is in heaven..." (Tertio millennio adveniente, n. 49), and invites them to reflect on the vocation that constitutes the true horizon of every human heart: eternal life.
"A HYMN OF PRAISE"
A hymn of praise erupts spontaneously from the heart: "Blessed be God, the Father of our Lord Jesus Christ" (Eph 1:3) for the gift, even in this century...,of innumerable vocations to the priestly ministry and the consecrated life...
WITNESSES FOR GOD THE FATHER
God continues to show Himself as Father by means of men and women who, urged by the strength of the Spirit, give witness by their word and deeds, and sometimes even by martyrdom, to their unlimited dedication to serving their brothers and sisters.
"A GIFT OF GOD"
Above all, vocation is a gift of God: it is not about choosing, but being chosen; it is the response to a love that precedes and accompanies.
"FATHERLY LOVE"
The Father has poured out His Spirit in abundance on His adoptive children, manifesting in the various forms of consecrated life His fatherly love, which He wishes to extend to the whole of humanity.
HUMANITY NEEDS THE WITNESS OF HOLY PEOPLE
Humanity needs holy priests and consecrated souls who live out daily the total gift of self to God and neighbor; of fathers and mothers who can give witness within the home to the grace of the sacrament of matrimony, reawakening in all those with whom they come into contact the wish to carry out the Creator's plan for the family; of young people who have personally discovered Christ and have been so attracted by Him as to move their contemporaries to the cause of the Gospel.
"JOYFUL AND FREE APOSTLES"
Those who are called to the priesthood or consecrated life can welcome the seed of vocation that God has placed in their hearts with a generous openness. Drawing them to follow Christ with an undivided heart, the Father invites them to be joyful and free apostles of the kingdom.
"PROMOTION OF VOCATIONS"
How can we fail to stress that the promotion of vocations to the ordained ministry and the consecrated life must become the harmonious commitment of the whole Church and of individual believers? The Lord commanded them to "pray the Lord of the harvest to send out laborers into His harvest" (Mt 9:38).
(Source: Message for World Day of Prayer for Vocations, issued October 1, 1998)
Published by: Presentation Ministries, 3230 McHenry Ave., Cincinnati, OH 45211, (513) 662-5378, www.presentationministries.com