GOD'S LOVE AND VOCATIONS
Pope Benedict XVI, Shepherd of Truth
Notable quotations from Pope Benedict XVI and official teachings of the Roman Catholic Church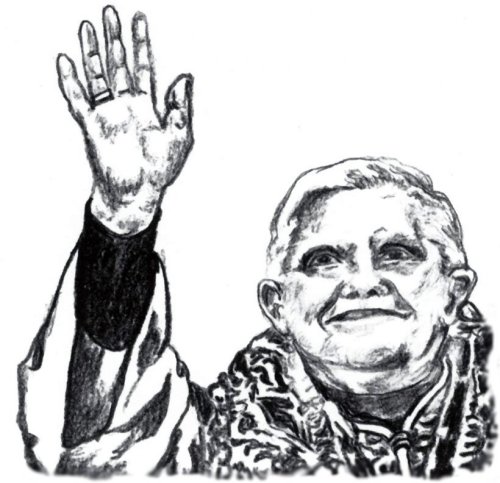 "WORLD DAY OF PRAYER"
The 49th World Day of Prayer for Vocations, which will be celebrated on April 29, 2012, ... prompts us to meditate on the theme: Vocations, the Gift of the Love of God.
GOD'S INITIATIVE
Every specific vocation is ... born of the initiative of God; it is a gift of the Love of God!
HIGH STANDARD
The high standard of the Christian life consists in loving "as" God loves; with a love that is shown in the total, faithful and fruitful gift of self.
BIRTH AND GROWTH
It is in this soil of self-offering and openness to the love of God, and as a fruit of that love, that all vocations are born and grow.
"LOVE FOR OUR NEIGHBORS"
By drawing from this well-spring through prayer, constant recourse to God's word and to the sacraments, especially the Eucharist, it becomes possible to live a life of love for our neighbors, in whom we come to perceive the face of Christ the Lord (cf. Mt 25:31-46).
INTENSITY AND PURITY
These two expressions of the one divine love must be lived with a particular intensity and purity of heart by those who have decided to set out on the path of vocation discernment towards the ministerial priesthood and the consecrated life; they are its distinguishing mark.
"GENEROUS RESPONSE"
It is important for the Church to create the conditions that will permit many young people to say "yes" in generous response to God's loving call.
"PRECIOUS TREASURE"
Scripture, prayer and the Eucharist are the precious treasure enabling us to grasp the beauty of a life spent fully in the service of the Kingdom.
(Source: Message for World Day of Prayer for Vocations, dated 10/18/11)
Published by: Presentation Ministries, 3230 McHenry Ave., Cincinnati, OH 45211, (513) 662-5378, www.presentationministries.com