THE JOURNEY OF FAITH
Pope Benedict XVI, Shepherd of Truth
Notable quotations from Pope Benedict XVI and official teachings of the Roman Catholic Church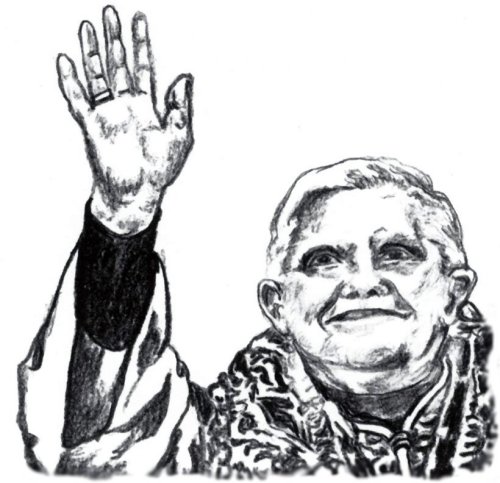 "ALWAYS OPEN"
The "door of faith" (Acts 14:27) is always open for us, ushering us into the life of communion with God and offering entry into His Church.
"TRANSFORMING GRACE"
It is possible to cross that threshold when the word of God is proclaimed and the heart allows itself to be shaped by transforming grace.
LIFETIME JOURNEY
To enter through that door is to set out on a journey that lasts a lifetime. It begins with baptism...and it ends with the passage through death to eternal life...
RADIATE THE TRUTH
The renewal of the Church is... achieved through the witness offered by the lives of believers: by their very existence in the world, Christians are called to radiate the word of truth that the Lord Jesus has left us.
STAND WITH JESUS
A Christian may never think of belief as a private act. Faith is choosing to stand with the Lord so as to live with Him.
"FRANK AND COURAGEOUS"
It is the gift of the Holy Spirit that makes us fit for mission and strengthens our witness, making it frank and courageous.
FOLLOW JESUS
By faith...men and women of all ages...have confessed the beauty of following the Lord Jesus wherever they were called to bear witness to the fact that they were Christian: in the family, in the workplace, in public life, in the exercise of the charisms and ministries to which they were called.
WHAT THE WORLD NEEDS
What the world is in particular need of today is the credible witness of people enlightened in mind and heart by the word of the Lord, and capable of opening the hearts and minds of many to the desire for God and for true life, life without end.
(Source: Apostolic Letter, Porta Fidei, issued 10/11/11)
Published by: Presentation Ministries, 3230 McHenry Ave., Cincinnati, OH 45211, (513) 662-5378, www.presentationministries.com