POPE JOHN PAUL II
Pope Benedict XVI, Shepherd of Truth
Notable quotations from Pope Benedict XVI and official teachings of the Roman Catholic Church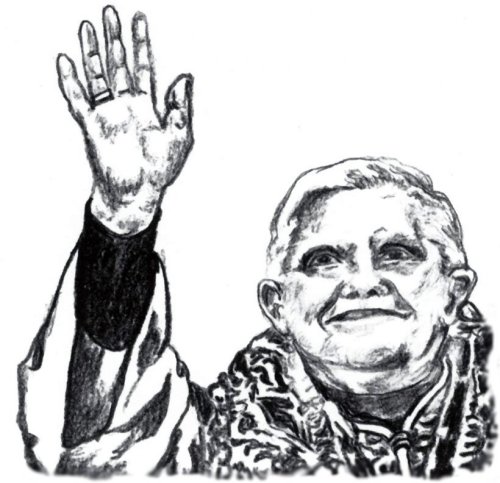 "HEAR HIS APPEAL"
On the fourth anniversary of the death of Pope John Paul II, hear his appeal: "Have no fear of entrusting yourselves to [Christ]! He will guide you, He will grant you the strength to follow Him every day and in every situation."
"AN INCENTIVE TO ALL"
His memory is an incentive to all of us ... to let ourselves be illuminated and called into question by the word of God ...
"DARING AND ARDENT"
John Paul II ... from his youth showed himself to be a daring and ardent champion of Christ: He did not hesitate to expend all his energy in order to spread Christ's light everywhere, he never stooped to compromises when it was a matter of proclaiming and defending His truth; He never tired of radiating His love.
JESUS ALONE SAVES
From the beginning of his Pontificate until April 2, 2005, John Paul II was never afraid to proclaim, to everyone and always, that Jesus alone is the Savior and true liberator of humankind and of the whole human being.
"MANY SONS AND DAUGHTERS"
... Especially in the years of his long Pontificate, he brought forth to faith many sons and daughters ... How many vocations to the priesthood and to the consecrated life, how many young families determined top live the Gospel ideal and to strive for holiness are bound to the witness and preaching of my venerable Predecessor! How many teenagers converted or persevered on their Christian journey thanks to his prayers, his encouragement, his support and his example!
"A STRONG CHARGE OF HOPE"
John Paul II succeeded in communicating a strong charge of hope founded on faith in Jesus Christ, Who "is the same yesterday and today and for ever" (Heb 13:8) ...
FATHER AND EDUCATOR
As an affectionate father and an attentive educator, he pointed out firm and reliable reference points, indispensable to all and especially to the young.
(Source: Homily at Mass to commemorate the fourth anniversary of the death of Pope John Paul II, April 2, 2009)
Published by: Presentation Ministries, 3230 McHenry Ave., Cincinnati, OH 45211, (513) 662-5378, www.presentationministries.com