THE EUCHARIST AND WITNESS
Pope Benedict XVI, Shepherd of Truth
Notable quotations from Pope Benedict XVI and official teachings of the Roman Catholic Church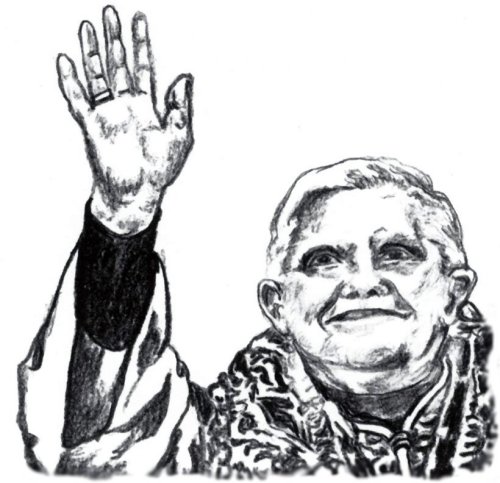 "ESSENTIAL PART"
We cannot approach the eucharistic table without being drawn into the mission which, beginning in the very heart of God, is meant to reach all people. Missionary outreach is... an essential part of the eucharistic form of the Christian life. (84)
"BEARING WITNESS BY OUR LIVES"
The first and fundamental mission that we receive from the sacred mysteries we celebrate is that of bearing witness by our lives. (85)
WONDER AND WITNESS
The wonder we experience at the gift God has made to us in Christ gives new impulse to our lives and commits us to becoming witnesses of His love. (85)
NOT GIVEN ENOUGH
The more ardent the love for the Eucharist is in the hearts of the Christian people, the more clearly will they recognize the goal of all mission: to bring Christ to others... Anyone who has not shared the truth of love with his brothers and sisters has not yet given enough.(86)
"CONVINCING WITNESSES"
The Christian laity ... should cultivate a desire that the Eucharist have an ever deeper effect on their daily lives, making them convincing witnesses in the workplace and in society at large. (79)
FAMILIES AND THE EUCHARIST
I encourage families in particular to draw inspiration and strength from this sacrament. The love between man and woman, openness to life, and the raising of children are privileged spheres in which the Eucharist can reveal its power to transform life and give it its full meaning. (79)
"CHARITY AND JUSTICE"
The Christian laity, formed at the school of the Eucharist, are called to assume their specific political and social responsibilities. To do so, they need to be adequately prepared through practical education in charity and justice. (91)
WITNESSES OF LOVE
The Eucharist makes us discover that Christ, risen from the dead, is our contemporary in the mystery of the Church, His body. Of this mystery of love we have become witnesses. (97)
(Source: Apostolic exhortation, Sacramentum Caritatis, February 22, 2007)
Published by: Presentation Ministries, 3230 McHenry Ave., Cincinnati, OH 45211, (513) 662-5378, www.presentationministries.com