WAR AND PEACE
Pope Benedict XVI, Shepherd of Truth
Notable quotations from Pope Benedict XVI and official teachings of the Roman Catholic Church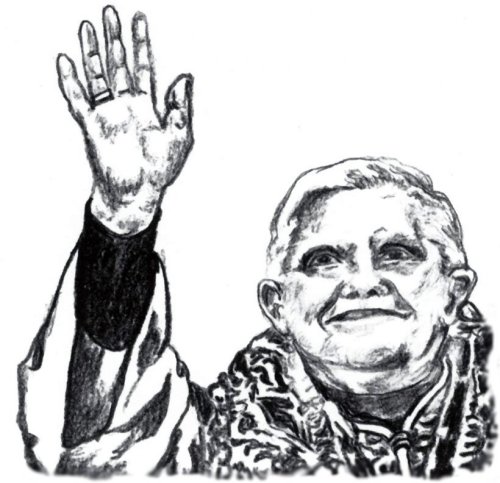 EARTHLY PARADISE
... When people live in peace with God and with one another, the earth truly resembles a "paradise."
SIN RUINS GOD'S PLAN
Unfortunately, sin ruins ever anew this divine project, causing division and introducing death into the world. Thus, humanity succumbs to the temptations of the Evil One and wages war against itself.
THE CALAMITY OF WAR
War, with its aftermath of bereavement and destruction, has always been deemed a disaster in opposition to the plan of God, Who created all things for existence and particularly wants to make the human race one family.
PLEA TO END WAR
August 1, 1917 ... my venerable predecessor, Benedict XV, addressed his famous Note to the Heads of Belligerent Peoples calling for an end to the First World War.
"SENSELESS SLAUGHTER"
While that inhuman conflict was raging, the Pope had the courage to call it a "senseless slaughter." His words are engraved in history. They were justified in the actual situation of that summer of 1917... But these words .... also contain a broader, more prophetic value and can be applied to many other conflicts that have struck down countless human lives.
THE WAY TO PEACE
Pope Benedict XV's Note was not limited to condemning the war; it also pointed out in a juridical perspective ways to build a just and lasting peace: the moral force of law, balanced and controlled disarmament, arbitration in disputes, the freedom of the seas, reciprocal amnesty for the costs of war, the restitution of occupied territories, and fair negotiations to settle problems.
"WAR NEVER AGAIN!"
The Holy See's proposal was oriented to the future of Europe and of the world. It complied with a project that was Christian in inspiration but could be shared by all since it was based on the rights of peoples. This was the same structure to which ... Paul VI and John Paul II adhered in their memorable discourses to the United Nations Assembly, repeating on the Church's behalf ... "War never again!"
(Source: Angelus message, 7/22/07)
Published by: Presentation Ministries, 3230 McHenry Ave., Cincinnati, OH 45211, (513) 662-5378, www.presentationministries.com