THE LENTEN JOURNEY
Pope Benedict XVI, Shepherd of Truth
Notable quotations from Pope Benedict XVI and official teachings of the Roman Catholic Church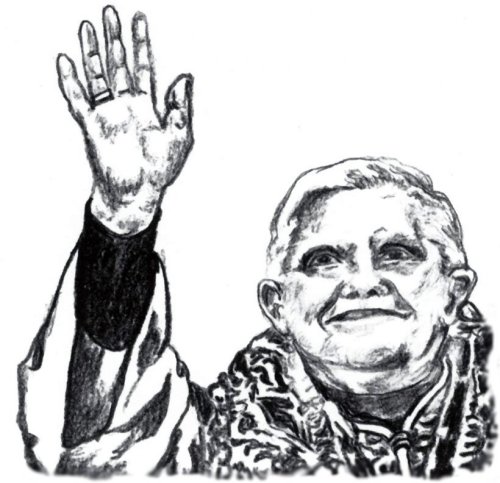 FIX YOUR GAZE ON JESUS
With a more fervent participation, let us direct our gaze ... in this time of penance and prayer, at Christ crucified Who, dying on Calvary, revealed fully for us the love of God.
"OVERWHELMING POWER"
It is in the mystery of the Cross that the overwhelming power of the heavenly Father's mercy is revealed in all its fullness. In order to win back the love of His creature, He accepted to pay a very high price: the blood of His only begotten Son.
"LOOK AT CHRIST"
Let us look at Christ pierced in the Cross! He is the unsurpassing revelation of God's love.
GOD WANTS YOUR LOVE
On the Cross, it is God Himself Who begs the love of His creature: He is thirsty for the love of every one of us.
"WELCOME HIS LOVE"
The response the Lord ardently desires of all of us is above all that we welcome His love and allow ourselves to be drawn to Him.
WE MUST RESPOND
Accepting His love ... is not enough. We need to respond to such love and devote ourselves to communicating it to others in need.
A EUCHARISTIC TIME
Let us live Lent ... as a "Eucharistic" time in which, welcoming the love of Jesus, we learn to spread it around with every word and deed.
"THE JOY OF EASTER"
May Lent be for every Christian a renewed experience of God's love given to us in Christ, a love that each day we, in turn must "regive" to our neighbor, especially to the one who suffers most. Only in this way will we be able to participate fully in the joy of Easter.
OPEN HEARTS
Contemplating "Him Whom they have pierced" moves us ... to open our hearts to others, recognizing the wounds inflicted upon the dignity of the human person; it moves us, in particular, to fight every form of contempt for life and human exploitation and to alleviate the tragedies of loneliness and abandonment of so many people.
(Source: Lenten message, dated 11/21/06)
Published by: Presentation Ministries, 3230 McHenry Ave., Cincinnati, OH 45211, (513) 662-5378, www.presentationministries.com