THE SAINTS
Pope Benedict XVI, Shepherd of Truth
Notable quotations from Pope Benedict XVI and official teachings of the Roman Catholic Church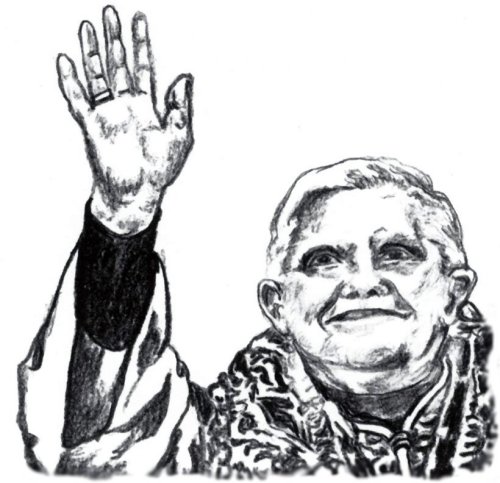 "AN INNUMERABLE CROWD"
The Saints are not a small caste of chosen souls but an innumerable crowd...
FAITHFUL AND LOVING
This multitude not only includes the officially recognized Saints, but the baptized of every epoch and nation who sought to carry out the divine will faithfully and lovingly.
"GLORIOUS STARS"
We are unacquainted with the faces and even the names of many of them, but with the eyes of faith we see them shine in God's firmament like glorious stars.
"THE SHINING EXAMPLE"
Looking at the shining example of the Saints ...reawaken[s] within us the great longing to be like them; happy to live near God, in His light, in the great family of God's friends.
"LIVING CLOSE TO GOD"
Being a Saint means living close to God, to live in His family. And this is the vocation of us all...
"DON'T LOSE HEART"
To be a Saint requires neither extraordinarary actions or works nor the possession of exceptional charisms... It is necessary first of all to listen to Jesus and then to follow Him without losing heart when faced with difficulties.
"THE WAY OF THE CROSS"
The Church's experience shows that every form of holiness, even if it follows different paths, always passes through the Way of the Cross, the way of self-denial.
PERSEVERANCE IN COMMITMENT
The Saints' biographies describe men and women who, docile to the divine plan, sometimes faced unspeakable trials and suffering, persecution and martyrdom. They persevered in their commitment...
"EXPERIENCE THE JOY"
The example of the Saints encourages us to follow in their same footsteps and to experience the joy of those who trust in God, for the one true cause of sorrow and unhappiness for men and women is to live far from Him.
(Source: Homily for Solemnity of All Saints, 11/01/06)
Published by: Presentation Ministries, 3230 McHenry Ave., Cincinnati, OH 45211, (513) 662-5378, www.presentationministries.com