GOD'S LOVE
Pope Benedict XVI, Shepherd of Truth
Notable quotations from Pope Benedict XVI and official teachings of the Roman Catholic Church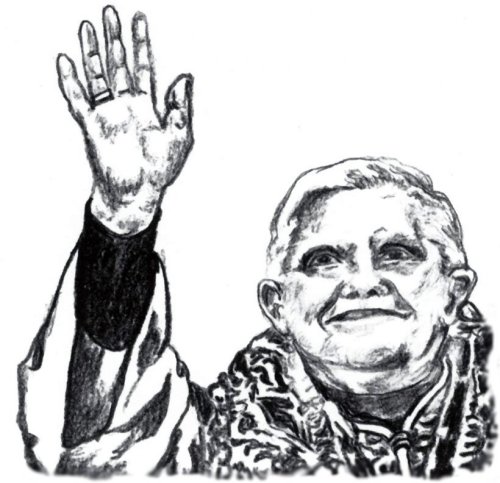 "THE HEART OF THE CHRISTIAN FAITH"
"God is love, and he who abides in love abides in God, and God abides in him" (1 Jn 4:16). These words ... express with remarkable clarity the heart of the Christian faith: the Christian image of God and the resulting image of mankind and its destiny. (1)
"THE CHRISTIAN LIFE"
In the same verse, St. John also offers a kind of summary of the Christian life: "We have come to know and to believe in the love God has for us". (1)
BELIEVE IN JESUS
Being Christian is not the result of an ethical choice or a lofty idea, but the encounter with an event, a person, which gives life a new horizon and a decisive direction. St. John's Gospel describes that event ...:"God so loved the world that He gave His only Son, that whoever believes in Him should ... have eternal life." (3:16) (1)
A PATH LEADING TO GOD
Love of neighbor is a path that leads to the encounter with God and ... closing our eyes to our neighbor also blinds us to God. (16)
GOD WANTS TO WIN YOUR HEART
God has made Himself visible : in Jesus we are able to see the Father (cf. Jn 14: 9), ... God is visible in a number of ways. In the love-story recounted by the Bible, He comes toward us, He seeks to win our hearts... (17)
ENCOUNTERS WITH THE LORD
The Lord ... encounters us ... in the men and women who reflect His presence, in His word, in the sacraments, and especially in the Eucharist. (17)
"EXPERIENCE THE LOVE OF GOD"
In the Church's Liturgy, in her prayer, in the living community of believers, we experience the love of God, we perceive His presence and we thus learn to recognize that presence in our daily lives. 17)
"A SINGLE COMMANDMENT"
Love of God and love of neighbor are ... inseparable, they form a single commandment... Both live from the love of God Who has loved us first... Love grows through love. Love is "divine" because it comes from God and unites us to God; through this unifying process it makes us a "we" which transcends our divisions and makes us one, until in the end God is "all in all" (1 Cor 15:28). (18)
(Source: Encyclical Deus Caritas Est, issued 12/25/05)
Published by: Presentation Ministries, 3230 McHenry Ave., Cincinnati, OH 45211, (513) 662-5378, www.presentationministries.com