DEVOTION TO THE SACRED HEART
Pope Benedict XVI, Shepherd of Truth
Notable quotations from Pope Benedict XVI and official teachings of the Roman Catholic Church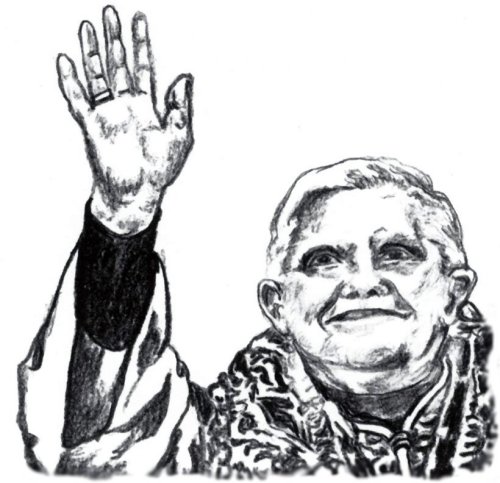 "THE MYSTERY OF GOD"
By encouraging devotion to the Heart of Jesus, the Encyclical Haurietis Aquas exhorted believers to open themselves to the mystery of God and of His love and to allow themselves to be transformed by it. After 50 years, it is still a fitting task for Christians to continue to deepen their relationship with the Heart of Jesus, in such a way as to revive their faith in the saving love of God and to welcome Him ever better into their lives.
LIVING IN HIS LOVE
The Redeemer's pierced side is the source ... we must draw from ... to attain true knowledge of Jesus Christ and a deeper experience of His love,... so that we can subsequently witness to it to others.
LEARNING FROM JESUS
To take up a saying of ... John Paul II, "In the Heart of Christ, man's heart learns to know the genuine and unique meaning of his life and of his destiny, to understand the value of an authentically Christian life, to keep himself from certain perversions of the human heart, and to unite the filial love for God and the love of neighbor."
FIX YOUR GAZE ON JESUS
It is only possible to be a Christian by fixing our gaze on the Cross of our Redeemer, "on Him Whom they have pierced" (Jn 19:37; cf. Zc 12:10).
HUMBLE SERVICE
True knowledge of God's love is only possible in the context of an attitude of humble prayer and generous availability.
CLOSELY FOLLOWING JESUS
When we practice this devotion, not onlydo we recognize God's love with gratitude but we continue to open ourselves to this love so that our lives are ever more closely patterned upon it. God... invites us tirelessly to accept His love.
"CREDIBLE PROCLAIMERS OF HIS LOVE"
The cult of love, which becomes visible in the mystery of the Cross presented anew in every celebration of the Eucharist, lays the foundations of our capacity to love and to make a gift of ourselves ..., becoming instruments in Christ"s hands: only in this way can we become credible proclaimers of His love.
(Source: Letter to Superior General of the Society of Jesus, 5/15/06)
Published by: Presentation Ministries, 3230 McHenry Ave., Cincinnati, OH 45211, (513) 662-5378, www.presentationministries.com