THE WORD OF GOD AND YOUTH
Pope Benedict XVI, Shepherd of Truth
Notable quotations from Pope Benedict XVI and official teachings of the Roman Catholic Church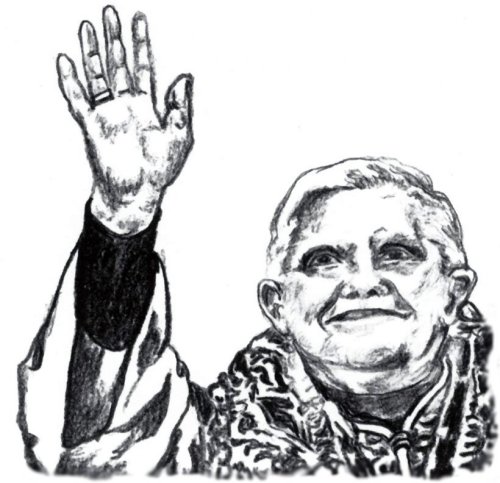 THE WORD AND THE EUCHARIST
In order to progress on our earthly pilgrimage towards the heavenly Kingdom, we all need to be nourished by the word and the bread of eternal Life, and these are inseparable from one another!
"A PRECIOUS GEM"
The Apostles received the word of salvation and passed it on to their successors as a precious gem kept safely in the jewel box of the Church; without the Church, this pearl runs the risk of being lost or destroyed.
LOVE AND OBEY
Love the word of God and love the Church, and this will give you access to a treasure of very great value and will teach you how to appreciate its richness. Love and follow the Church, for it has received from its Founder the mission of showing people the way to true happiness.
THE HOLY SPIRIT
Meditate often on the Word of God, and allow the Holy Spirit to be your teacher. You will then discover that God's way of thinking is not the same as humankind's.
TRUTH AND JOY
You will find yourselves led to contemplate the real God and to read the events of history through His eyes. You will savor in fullness the joy that is born of truth.
AN INDISPENSABLE WEAPON
It is necessary to take seriously the injunction to consider the word of God to be an indispensable "weapon" in the spiritual struggle. This will be effective and show results if we learn to listen to it and then to obey it.
"AN UNDERSTANDING HEART"
The secret of acquiring "an understanding heart" is to train your heart to listen. This is obtained by persistently meditating on the word of God and by remaining firmly rooted in it through the commitment to persevere in getting to know it better.
READ THE BIBLE, KNOW CHRIST
I urge you to become familiar with the Bible, and to have it at hand so that it can be your compass pointing out the road to follow. By reading it, you will learn to know Christ.
"CONSISTENT FIDELITY"
Reading, study and meditation of the Word should then flow into a life of consistent fidelity to Christ and His teachings.
"A NEW GENERATION OF APOSTLES"
There is an urgent need for the emergence of a new generation of apostles anchored firmly in the word of Christ, capable of responding to the challenges of our times and prepared to spread the Gospel far and wide.
(Source: Message for 2006 World Youth Day, 4/9/06, issued 2/22/06)
Published by: Presentation Ministries, 3230 McHenry Ave., Cincinnati, OH 45211, (513) 662-5378, www.presentationministries.com