TRUTH AND PEACE
Pope Benedict XVI, Shepherd of Truth
Notable quotations from Pope Benedict XVI and official teachings of the Roman Catholic Church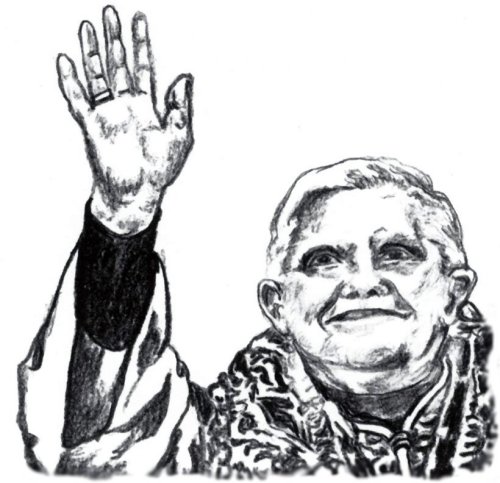 "THE PATH OF PEACE"
Whenever and whereever men and women are enlightened by the splendor of truth, they naturally set out on the path of peace.
PEACE AND THE DIVINE ORDER
Peace cannot be reduced to the simple absence of armed conflict, but needs to be understood as "the fruit of an order which has been planted in human society by its divine Founder," an order which must be brought about by humanity in its thirst for ever more perfect justice." (Pope Benedict XV, Appeal to the Heads of the Warring Peoples, 8/1/1917)
"A HEAVENLY GIFT"
Peace appears as a heavenly gift and a divine grace which demands at every level the exercise of the highest responsibility: that of conforming human history — in truth, justice, freedom and love — to the divine order.
"TRUTH AND UNTRUTH"
Any authentic search for peace must begin with the realization that the problem of truth and untruth is the concern of every man and women; it is decisive for the peaceful future of our planet.
"AN IRREPRESSIBLE YEARNING"
Peace is an irrepressible yearning present in the heart of each person, regardless of his or her particular cultural identity. Consequently, everyone should feel committed to service of this great good, and should strive to prevent any form of untruth from poisoning relationships.
"THE TRUTH OF PEACE"
The truth of peace calls upon everyone to cultivate productive and sincere relationships; it encourages them to seek out and to follow the paths of forgiveness and reconciliation, to be transparent in their dealings with others, and to be faithful to their word.
"THE TRUTH WHIICH GIVES US PEACE"
Jesus is the truth which gives us peace.
"THE GOSPEL OF PEACE"
All Catholics in every part of the world have a duty to proclaim and embody ever more fully the 'Gospel of Peace''
(Source: Message for 2006 World Day of Peace, issued December 8, 2005.)
Published by: Presentation Ministries, 3230 McHenry Ave., Cincinnati, OH 45211, (513) 662-5378, www.presentationministries.com