THE WORD OF GOD
Pope Benedict XVI, Shepherd of Truth
Notable quotations from Pope Benedict XVI and official teachings of the Roman Catholic Church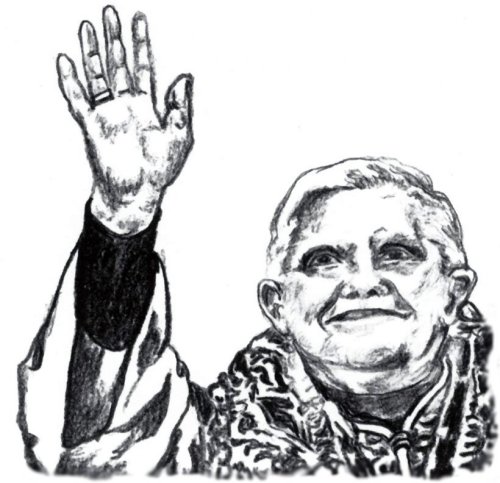 THE CHURCH AND THE WORD OF GOD
The Church is a community that listens to and proclaims the Word of God
DIRECTIONS FOR THE JOURNEY
The Church does not live on herself but on the Gospel, and in the Gospel always and ever anew finds the directions for her journey.This is a point that every Christian must understand and apply to himself or herself: only those who first listen to the Word can become preachers of it.
THE WISDOM OF GOD
They must not teach their own wisdom but the wisdom of God. which often appears to be foolishness in the eyes of the world (cf. 1 Cor 1:23)
VENERATING JESUS IN THE SCRIPTURES
The Church knows well that Christ lives in the Sacred Scriptures. For this very reason... she has always venerated the divine Scriptures in the same way as she venerates the Body of the Lord....
"INSEPARABLY LINKED"
The Church and the Word of God are inseparably linked. The Church lives on the Word of God and the Word of God echoes through the Church in her teaching and throughout her life...
"GRATEFUL TO GOD"
We are grateful to God that in recent times ..., the fundamental importance of the Word of God has been deeply re-evaluated. From this has derived a renewal of the Church's life, especially iin her preaching, catechesis, theology and spirituality, and even in the ecumenical process.
RENEWAL AND REJUVENATION
The Church must be constantly renewed and rejuvenated and the Word of God, which never ages and is never depleted, is a privileged means to achieve this goal.
"TO THE VERY ENDS OF THE EARTH"
May the Word of God nake progress (cf. 2 Thes 3:1) to the very ends of the earth, so that through the proclamation of salvation the whole world through hearing it may believe, through belief it may hope. and through hope it may come to love...
(Source: Address to Congress commeorating 40th anniversary of Vatican II Dogmatic Constitution on Divine Revelation, September 16, 2005)
Published by: Presentation Ministries, 3230 McHenry Ave., Cincinnati, OH 45211, (513) 662-5378, www.presentationministries.com