THE SUNDAY EUCHARIST
Pope Benedict XVI, Shepherd of Truth
Notable quotations from Pope Benedict XVI and official teachings of the Roman Catholic Church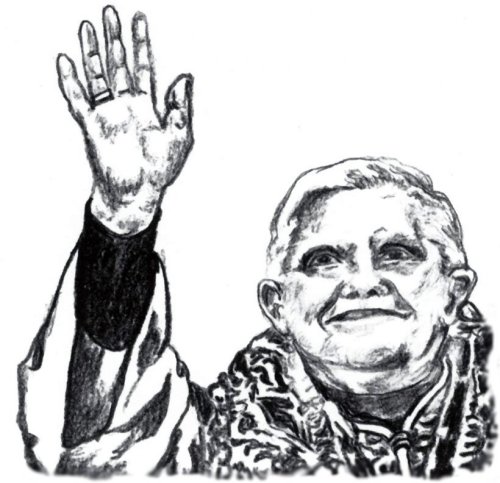 WE NEED THE EUCHARIST
We cannot live without joining together on Sunday to celebrate the Eucharist. We would lack the strength to face our daily problems and not to succumb.
"THE NOURISHMENT OF HIS PEOPLE"
In taking flesh, the Son of God could become bread and thus be the nourishment of His people ...journeying on in this world towards the promised land of Heaven.
JESUS IS OUR STRENGTH
We need this Bread to face the fatigue and weariness of our journey. Sunday, the Lord's Day, is a favorable opportunity to draw strength from Him, the Lord of life.
NOT A BURDEN
The Sunday precept is not ... an externally imposed burden on our shoulders.
"A JOY FOR CHRISTIANS"
Taking part in the Celebration, being nourished by the Eucharistic Bread and experiencing the communion of their brothers and sisters in Christ is a need for Christians, it is a joy. Christians can thus replenish the energy they need to continue on the journey we must make every week.
"REDISCOVER THE JOY"
We must rediscover the joy of Christian Sundays. We must proudly rediscover the privilege of sharing in the Eucharist, which is the sacrament of the renewed world.
"OUR PRAYER"
Our prayer [is] that we ... will rediscover an awareness of the crucial importance of the Sunday celebration and will know how to draw from participation in the Eucharist the necessary dynamism for a new commitment to proclaiming to the world Christ "our peace" (Eph 2:14) Amen!
(Source: Homily, Mass in Bari, Italy, 5/29/05)
Published by: Presentation Ministries, 3230 McHenry Ave., Cincinnati, OH 45211, (513) 662-5378, www.presentationministries.com