THE POPE'S MINISTRY
Pope Benedict XVI, Shepherd of Truth
Notable quotations from Pope Benedict XVI and official teachings of the Roman Catholic Church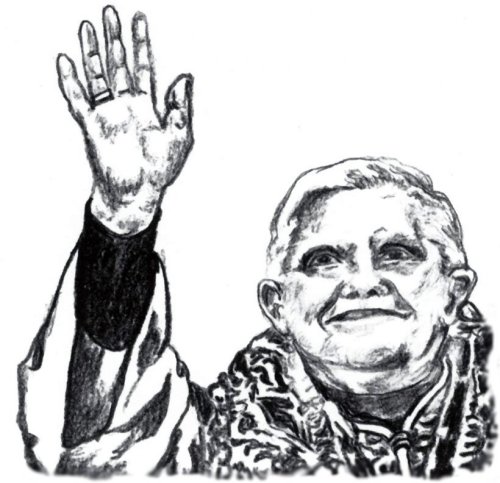 "COURAGEOUS AND FAITHFUL"
In choosing me as Bishop of Rome, the Lord wanted me to be His Vicar... I ask Him to compensate for my limitations so that I may be a courageous and faithful Pastor of His flock, ever docile to the promptings of His Spirit.
"LOYALTY TO CHRIST"
I am preparing to undertake this special ministry ... with humble abandonment into the hands of God's Providence. I first of all renew my total and confident loyalty to Christ.
"A MANDATE TO SERVE"
The power that Christ conferred upon Peter and his Successors is, in an absolute sense, a mandate to serve. The power of teaching in the Church involves a commitment to the service of obedience to the faith.
"A GUARANTEE OF OBEDIENCE"
The Pope's ministry is a guarantee of obedience to Christ and to His Word. He must not proclaim his own ideas, but rather constantly bind himself and the Church to obedience to God's Word, in the face of every attempt to adapt it or water it down, and every form of opportunism.
TRUTH AND LOVE
Presiding in doctrine and presiding in love must in the end be one and the same. The whole of the Church's teaching leads ultimately to love. And the Eucharist, as the love of Jesus Christ present, is the criterion for all teaching.
THE YEAR OF THE EUCHARIST
My Pontificate begins in a particularly meaningful way as the Church is living the special Year dedicated to the Eucharist... The Eucharist, the heart of the Christian life and the source of the Church's evangelizing mission, cannot but constitute the permanent center and source of the Petrine ministry that has been entrusted to me.
STRIVING FOR FULL UNITY
Nourished and sustained by the Eucharist, Catholics cannot but feel encouraged to strive for the full unity for which Christ expressed so ardent a hope in the Upper Room. The Successor of Peter knows that he must make himself especially responsible for his Divine Master's supreme aspiration. Indeed, he is entrusted with the task of strengthening his brethren (cf. Lk 22:32)
PUTTING VATICAN II INTO PRACTICE
I ... wish to confirm my determination to continue to put the Second Vatican Council into practice... The Conciliar documents have lost none of their timeliness; indeed, their teachings are proving particularly relevant to the new situation of the Church and the current globalized society.
"PUT OUT INTO THE DEEP"
Today ... the Church and the successors of the Apostles are told to put out into the deep seas of history and to let down their nets, so as to win men and women over to the Gospel — to God, to Christ, to true life.
(Sources: First message of Pope Benedict XVI, 4/20/05; homilies 4/24/05 and 5/7/05)
Published by: Presentation Ministries, 3230 McHenry Ave., Cincinnati, OH 45211, (513) 662-5378, www.presentationministries.com