Reverend Albert E. Lauer is the founder of Presentation Ministries. He was born July 19, 1947 and died October 13, 2002 at the age of 55. Originally a member of St. Ann Church in Hamilton, Ohio, he was ordained a Catholic priest for the Archdiocese of Cincinnati in 1974. His priestly ministry included several parochial assignments, hospital chaplaincy, prison ministry, and full-time national evangelization. In addition to founding Presentation Ministries, he also was the founder of a religious community, the Brothers and Fathers of Pentecost.
He made use of publications, radio, audio & video recordings, telephone, and retreats to extensively proclaim the teachings of the Church and the Bible. His ministry of teaching has achieved world-wide outreach and will continue to be made available through the work of Presentation Ministries.
Before his death, he was pastor of Old St. Mary's Church. While there, he was instrumental in opening Old St. Mary's Pregnancy Center.
His religious community, the Brothers and Fathers of Pentecost, founded St. Peter Claver School, whose mission is to promote the formation of young men, primarily from the inner city, to equip them to become great Catholic Christian leaders.
The following inscription is found on the headstone at Fr. Al's grave at St. Mary cemetery in Hamilton, Ohio.
"Christ loved the Church...He gave Himself up for her..." —Ephesians 5:25

Fr. Al —

Faithful to the hierarchical Church:

dedicated to the priesthood, tirelessly administering the sacraments,
inviting all to encounter Jesus in the daily eucharistic scriptures and Holy Communion,
evangelizing to the ends of the earth,
always teaching, whether convenient or inconvenient,
raising up leaders and providing formation,
teaching and networking small Christian communities, to fully live their baptisms,
distinguishing and promoting all vocations.

Fr. Al —

A witness to gospel poverty.
A champion of the unborn.
"...praying always and never loosing heart..." —Luke 18:1

Fr. Al —

Founder of:

Presentation Ministries and
The Brothers and Fathers of Pentecost
We thank Fr. Al for his many years of devoted service to us and the Church.
More about Fr. Al Lauer:
Fr. Lauer's last writing in OBOB which was for the Sept. 30, 2004 reflection
Homily as given by Deacon Ken Meade at the Funeral
Jerry Cappel's Talk at the Funeral
Fr. Lauer's Approach to Finances
Fr. Lauer and the Mysteries of Light
One chapter of the book Priest, by Michael S. Rose is about Fr. Al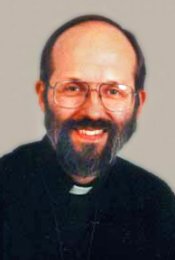 Fr. Al Lauer
Born: July 19, 1947
Ordained: May 25, 1974
Died: October 13, 2002
Read and share memories about Fr. Al


"The Spirit of the Lord is upon me; therefore He has anointed me. He has sent me to bring glad tidings to the poor, to proclaim liberty to captives, recovery of sight to the blind and release to prisoners, to announce a year of favor from the Lord." — Lk 4:18-19
"Now I, like a rivulet from her stream, channeling the waters into a garden, Said to myself, "I will water my plants, my flower bed I will drench";
And suddenly this rivulet of mine became a river, then this stream of mine, a sea. Thus do I send my teachings forth shining like the dawn, to become known afar off. Thus do I pour out instruction like prophecy and bestow it on generations to come. — Sir 24:28-31